Winter Sports Insurance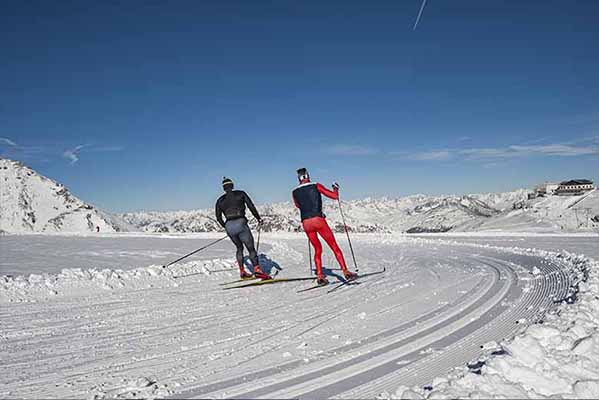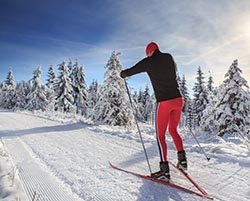 Dogtag is well known for providing Winter Sports Travel Insurance. In fact, it's how we started - back then, we thought that the winter sports travel insurance on offer in the marketplace was pretty poor so we decided to change things.
One of the other things we changed about winter sports travel insurance was to make it easy to find out what level of cover you'd need for the various types of winter sports and also to make the quotation as simple and straightforward as possible.
If you want the quickest winter sports travel insurance quote on the market, just click Buy Online above.
What winter sports do we cover?
Of course, winter sports insurance is most commonly taken out to cover skiing and snowboarding and that's what we focussed our attention on but we already knew, as people who have spent their lives in the mountains that the other minority winter sports would soon come knocking on our door.
These sports are amost too many to mention and if you want to know whether we cover them than the simplest method is to visit our Sports list. Here there's an alphabetical drop-down list of every sport that we cover and which level of sport cover you'll need according to the sport's risk: Sport, Sport+, Extreme and Extreme+. Searching for your sport will rebeal two things:
Which sport cover category you'll need, Sport, Sport+, Extreme or Extreme+
Whether you'll need to select the Winter Sports insurance cover upgrade - there's a red dot at any sport where there are sepecial criteria, including the need for the Winter Sports insurance upgrade
If you don't see your particular winter sport listed, it doesn't mean that we don't cover it, simply drop us an email with some information on the sport (it may be a new sport or a very unusual one that even we have never heard of) and we'll do our best to get it covered. We've even had a look at Wikipedia's winter sports definitions and its list and we think we've got most of thos knocked off.
Are their any "Winter Sports" that don't require Winter Sports Insurance?
Well, you'd think the anser to that would be No, but in fact, there are. These are mostly the sort of 'winter sport' that you could do in the summer time such as going to the ice ring (but not including ce hockey) or the likes of dog sledding where it's actually the dogs that are doing the sport! Again, you should check the Sports list. Happily, when you go for your quote you'll be asked to type in the sports that you expect to be doing so if you type in and select say, ice hockey or langlauf, the system will automatically seleect the correct sport cover level (Sport, Sport+, Extreme or Extreme+) and will automaticaly select the Winter Sport insurance upgrade for you.
Is that everything?
Well, most of it but here's some extra, relevant information it might be worth thinking about:
Single Trip Cover with Winter Sports Insurance:
This might be what you need if you're just taking a one-off holiday of up to 31 days - you can select the Winter Sports option to cover the whole period for skiing or snowboarding.
Longer trips: If you're traveling for a longer period (say, a Gap Year or a Backpacking break) of several weeks or months and want to add winter sports insurance, you can add winter sports cover to all or only part of the period for cover. This helps to keep the costdown, after all, you don't want to be paying for winter sports insurance if you've left Thredbo and are now shark-cage diving in the seas off Perth - we cover that too!
Annual Multi-trip Cover with Winter Sports Insurance:This is one of our best sellers for people who take two or more trips per year. An annual Multi- trip will cover you for unlimited trips of up to 31 days per trip (or 62 days if you upgrade) and you can add 17, 24 or 31 days of winter sports travel insurance so you can take a winter holiday as well as a summer holiday. An annual Multi-trip is also ideal if you travel occasionally for business as well as pleasure.
Types of 'Mountain' Winter Sports Cover:
As well as covering the simple things like in-resort skiing and snowboarding, Dogtag can also provide Winter Sports travel insurance for things like Off-pist skiing and snowboarding, Helicopter Skiing & Snowboarding and Ski Touring & Mountaineering and Freeride.
In addition to the Winter Sports travel insurance upgrade, as we mentioned above, some of these winter sports require an upgrade to a higher level of sport cover so make sure you check the Sports list to see which level you'll need (Sport, Sport+, Extreme or Extreme+).
Dogtag has four levels of sport cover so, at the risk of repeating ourselves, while the Winter Sports travel insurance upgrade covers all sorts of 'ordinary' winter sports, for certain other types of winter sport like heli-skiing or ski touring/mountaineering as well as minorty sports like langlauf or Biathlon you may have to upgrade to Sport+, Extreme or Extreme+ as well as selecting the winter sports cover.
Other aspects of skiing and snowboarding that also require the Winter Sports Insurance upgrade are:

Cross Country Skiing
Glacier Skiing or Glacier Walking
Ice Climbing
Kite Skiing/Snowboarding
Langlauf
Ski Randonee
Snowblading
Snowmobiling
Snowshoeing
Click these links if you want more specific information about Off-piste skiing & boarding, Freeride or Helicopter skiing & boarding.
The list of sports that will require you to select the Winter Sports Insurance upgrade is a long one. In our Sports list, as you scroll down to see if we cover your particular winter sport, you'll see that certain sports are tagged with a red dot. If you hove over these dots, they will tell you whether you need to select winters the sports insurance upgrade as well as providing other information peculiar to that sport. Remeber, it's your responsibility to make sure that you select all of the cover features for your sport.
In the bullet point list above we've mentioned a few skii-ing-related sports that require winter the Winter Sports cover upgrade but there are umpteen other sports outside skiing that also require it. They're almost too many to mention but visiting the Wikipedia page will give you some idea of the multitude that the expression "winter Sports" covers
Avalanche Safety.
In the mountains, if you go off piste or back-country you do have to keep your wits about you. You are in charge of your own safety and all the avalanche equipment in the world won't help you if you make the wrong kind of mistakes. We're no experts on the subject but we think it's worth doing some research on the subject. Have a look at these articles:
The Mountaineering Council of Scotland - Avalanche Safety Advice
Even if you're heading to the Alps, the knowledge and wisdom built up over decades of experience in the Scottish Highlands is still very apt. Scottish meteorological conditions, with their rapid temperature changes and fluctuations between snow and wet make for a special type of fragility when it comes to the structure of the snow pack and this is every bit as relevant in alpine regions as it is in Cairngorm.
National Geographic - 5 Tips for Staying Safe in Avalanche Country
Who else would you trust but the one organisation that has been sending journalists to the far flung corners of the world for over a hundred years?
And Finally, Some Science behind Avalanches
From The Society for Science & the Public
Stay safe and enjoy the snow. For a quick quote, just click one of the red buttons up there on the right.
You can find some other useful information regarding sports that we cover in our Sports Information Library.
The DOGTAG Team
p.s. if you think this information was useful, why not recommend it to a friend using one of the links below.
---
---