Ski Travel Insurance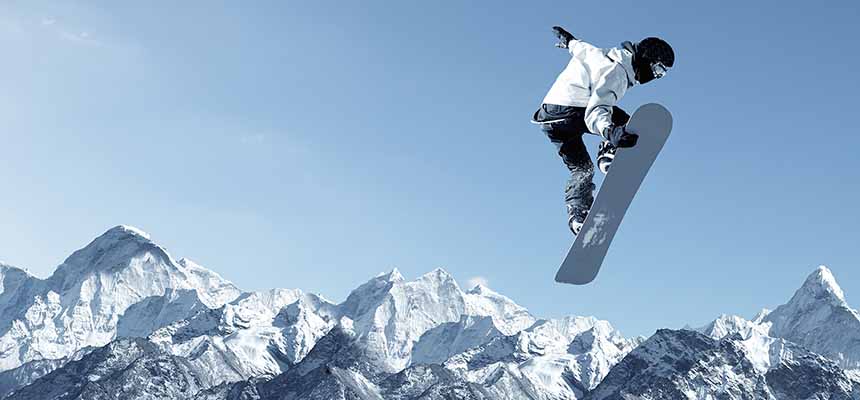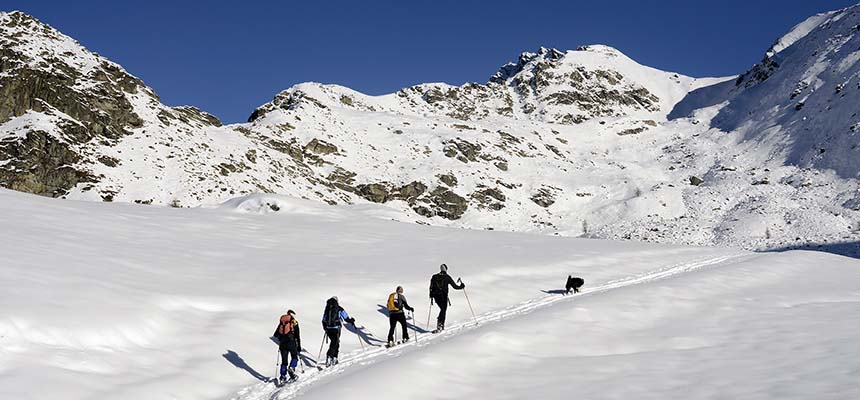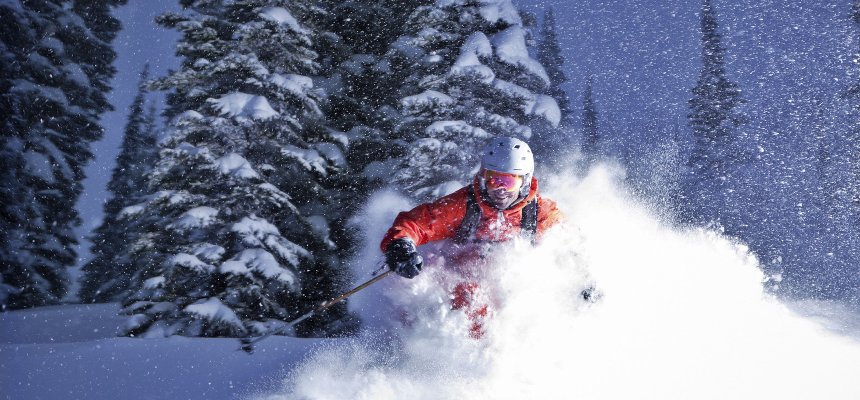 In the beginning, Dogtag made its name providing Winter Sports Travel Insurance. In fact, as life-long skiers, the directors of Dogtag originally designed Dogtag around winter sports for the simple reason that most winter sports insurance didn't cover the things that they wanted to do, such as venturing off piste or heli-skiing.
And we wanted to make it easy for you to ensure that you get the right levels of cover for the type of skiing or snowboarding that you want to do. All you have to do on the way through the quote process, is make sure you select all of the types of winter sports you'll be doing: ordinary on-piste schmoozing, to back country, to heli-skiing ; each has been graded according to the level of cover it requires Sport (the default level) Sport+, Extreme or Extreme+. Apart from that, all you have to do is-make sure you also select Winter Sports cover on your way through the quote process .
Many types of skiing & boarding.
It was the fact that the founders of Dogtag are dyed-in-the-wool skiers that we knew that certain winter sports activities are more riskier than others that made Dogtag what it is today for a whole host of other sports. As we mentioned above, the risker types of skiing or snowboarding such as back country, heli-skiing, ski mountaineering or ski touring seemed to indicate that insurance cover should be tuned to fit rather than, as is the case with other insurers, leaving you to guess from the small print whether you're insured for your type of skiing or not.
This is why we took the opportunity to invent a multi-level Sports list so that you can choose the level of skiing insurance that's appropriate for what you want to do.
Single Trip Ski Travel Insurance:
For Single Trip cover for a trip of up to 31 days, you can select the Winter Sports upgrade to cover the whole period.
Longer trips:
For longer periods, what we call 'Extended Single Trip" of several weeks or months and you want to add cover for skiing or boarding, you can add winter sports to all or only part of the period of cover. It's ideal if you're on a gap year or are doing a season in the Alps and then moving on to other foreign parts where you won't need winter sports cover.
Annual Multi-trip cover:
This is one of our best sellers for people who take two or more trips per year, whether for business or pleasure. An annual Multi- trip will cover you for unlimited trips of up to 31 days per trip. You can upgrade this to a per-trip limit of 62 days if you're lucky enough to get that kind of annual leave or say, own a holiday home abroad. The number of days winter sports per annum with an Annual Multi-Trip can be 17, 24 or 31 days of winter sports cover so you can take winter holidays as well as summer holidays.
Types of 'All-Mountain' Ski Travel Insurance:
As we mentioned above, as well as covering the simple things like in-resort skiing and snowboarding, Dogtag can also provide Winter Sports travel insurance for things like Off-piste skiing and snowboarding, Helicopter Skiing & Snowboarding and Ski Mountaineering and Freeride.

As well as the Winter Sports travel insurance upgrade, some of the above winter sports require an upgrade to a higher level of sport cover so make sure you check the Sports list to see which level you'll need (Sport, Sport+, Extreme or Extreme+).
Dogtag has four levels of sport cover so while the Winter Sports travel insurance upgrade covers all sorts of 'ordinary' skiing & snowboarding, for certain other types of winter sport like heli-skiing or ski touring and ski mountaineering you may have to upgrade to Sport+, Extreme or Extreme+ as well as selecting the winter sports cover.
Other Sports that also require Ski Travel Insurance (Winter Sports upgrade):
Cross Country Skiing
Glacier Skiing or Glacier Walking
Ice Climbing
Kite Skiing/Snowboarding
Langlauf
Ski Randonee
Snowblading
Snowmobiling
Snowshoeing
Click these links if you want more specific information about Off-piste skiing & boarding, Freeride or Helicopter skiing & boarding. And to check which level of sport cover you'll need (Sport, Sport+, Extreme or Extreme+), the click HERE.
What does a ski travel insurance policy include?
It's pretty obvious that sking or snowboarding carries more risk of physical injury than toasting yourself on the beach so adding skiing to your travel insurance carries an extra premium. But what else do you get for your money with a winter sports upgrade?
Your Winter Sports upgrade will cover you for Emergency Medical, Repatriation, Public Liability etc when you're on the snow but it will also add a few necessary features:
Ski Pack: Cover for ski pass, ski lift pass and ski school fees.
Delayed Ski Equipment: your kit goes missing at the airport and you need to hire until it turns up.
Ski Equipment: You may have your own ski equipment and it cost more than the usual 'single article limit' in the Personal Belongings cover - your Winter Sports cover upgrade adds cover for you kit if it gets lost or stolen.
Piste Closure: Compensation per day if the pistes are closed by the resort authorities:
Avalanche Closure: Likewise, if you can't ski because of avalanche danger there's some daily compensation.
Which Ski Travel Insurance cover level is right for me?
Well that really depends on your own personal needs and the type of skiing that you intend to do.
Sport level: First of all, as we mentioned above, there's more than just schmoozing around the resort runs so if you're thinking of doing something more exotic, risky or strenuous like Ski Mountaineering or Back Country then please have a look at our Sports List to see whether you need Sport, Sport+, Extreme or Extreme+.
Cover Level: We each spend different amounts on our travel and expect different levels of compensation if we have to make a claim. For this reason, we have three cover levels: BASE, PRO & MAX each offering different levels of value. For instance, if you're traveling light or have been frugal with your travel costs then BASE might suit you and PRO and MAX offer increasing levels of cover. You can check the difference between these levels on our Cover page.
You can find some other useful information regarding sports that we cover in our Sports Information Library.
The DOGTAG Team
p.s. if you think this information was useful, why not recommend it to a friend using one of the links below.
---
---