Helicopter Skiing & Snowboarding Travel Insurance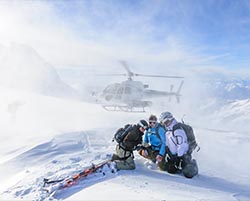 Being taken by helicopter to otherwise unaccessible wild mountain areas to ski is one of the most thrilling forms of snowsport. Of course, those of us who go out into the wild mountain places need to make sure that everything that we need is in full working order. You don't go out without checking your equipment and of course, you need to make sure that you carry adequate heliskiing insurance for your adventure. The directors of DOGTAG are avid off-piste skiers. Until we launched DOGTAG, we were never sure that we carried proper heliskiing insurance cover because ordinary travel insurers either didn't know what skiers wanted or, even if they did, didn't want you to be covered for it.. This is one reason why we launched DOGTAG.
Now we're pretty sure we've got things sorted. DOGTAG makes it easy to pick the right level of cover for adventure sports like helicopter skiing and snowboarding.
Insurance Cover
If you are looking for Heliskiing Insurance & Heliboard Insurance DOGTAG Annual Multi-Trip travel insurance or a Single Trip or Gap Year travel insurance, will cover you for most types of skiing within the resort. If you check our Sports List you'll see that your Heliskiing Insurance is listed under Sport+. This is because heliskiing and heli-snowboarding carry a slightly higher risk than skiing or snowboarding on marked trails within the resort bounds. With DOGTAG you know that you carry a high enough level of travel insurance. So if you want to go helicopter skiing or snowboarding you'll need DOGTAG Sport+.
If you also want cover to do some other sport, say, Ski Mountaineering Insurance which requires DOGTAG Extreme, don't worry, DOGTAG Extreme includes cover for all of the sports and activities listed under both Sport and Sport+ so you will have heliskiing insurance cover under your Extreme policy automatically.
Finally, your heliskiing trip probably won't be your only trip abroad this year. If you are going abroad again, say for a summer holiday, think about an Annual Multi-Trip policy, it probably represents better value
Definitions
Heliskiing is defined as off-piste, downhill skiing or snowboarding that is accessed by helicopter, rather than ski lift.
Heliskiing generally gives access to remote, high-altitude mountain wilderness areas where unspoiled and seldom-visited terrain exists. Terrain may be entirely above the tree line or give access to unpatrolled wooded slopes for tree skiing. Helicopter skiing and snowboarding is generally perceived as being a more adventurous, thrilling and consequently riskier sport than normal on-piste activity. It takes place out in the wilderness areas of the mountain and although you will have a guide with you, you will be expected to take stock of your own safety. Companies providing heli-skiing and heli-boarding insurance generally take a dim view of clients who needlessly expose themselves to danger by being inadequately equipped or by taking risk beyond the risk.
Equipment and Safety
Make sure your kit is in tip-top shape, that you are fit enough to undertake the physical exertion required at high altitude where breathing as a greater challenge and that you have the correct safety equipment. Most heliskiing operations will offer you the use of avalanche detection equipment but many avid off-piste skiers now carry their own. Check it before you go. Oh yes and a shovel is a good idea. Everybody should have one. It's no use if the only guy with a shovel is the one that's buried. Another must is a crash hat. These days you hardly see a snowboarder without a helmet and skiers are taking the advice. If you think that your helicopter guide might take you into a wooded area then it's complete madness to go there without adequate head protection so get a proper branded ski/snowboarding helmet. You'll also find that it's easier to control your temperature with a helmet with adjustable vents than it is, say, with a wooly hat. And a woolly hat isn't tree-proof.
The thin atmosphere of the mountain areas is very dry and this, physical exertion and sweating can cause you to de-hydrate rapidly. Make sure you carry plenty of fluid. A first aid kit helps too. Your guide will carry one but he's not there to fix your blisters!
Finally, just in case anything goes wrong, you need to make sure that you carry travel insurance that is specifically calls itself Heliskiing Insurance or Helicopter Skiing rather than simple Winter Sports Insurance. Ordinary winter sports insurance will almost certainly exclude helicopter skiing. Make sure you go to a travel insurer that understands your sport and where you can be clear that you have adequate and specific heli-skiing insurance cover.
You can find some other useful information regarding sports that we cover in our Sports Information Library.
The DOGTAG Team
p.s. if you think this information was useful, why not recommend it to a friend using one of the links below.
---
---