What's Dogtag all about?
DOGTAG 100% Proof Travel Insurance: more than just travel insurance. Uniquely, we give every insured person access to the DOGTAG Emergency Identity System which could be vital in an emergency. The App-based system carries: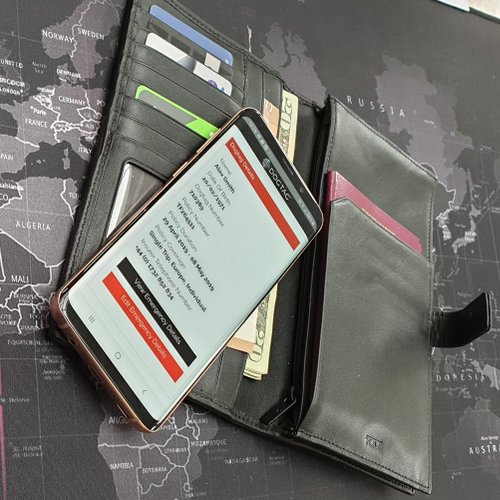 24-Hour Emergency Information

- you'll always have emergency contact numbers on you when you travel.

Your name and your unique Dogtag identity number

- this means you can easily identify yourself if you need to call us and it also means you don't need to go looking for paperwork.

Won't have your phone with you?

If you think you'll be doing some sport where your phone won't be near at hand then coming soon there will be upgrade options for the brand new NFC Dogtag, NFC Helmet Sticker or NFC Card.

Need Cover for a particular sport? Dogtag aims to offer the clearest sports list with an easy-to-use sports selector so that you can ensure you select cover appropriate for your needs
Travel with added safety:



The DOGTAG Emergency Identity System

enables,

a medic treating you to log into your personal read-only emergency page and find important information which you have on display. This can:

• prove you have current insurance
• display your next of kin's contact details
• your doctor's contact details
• show vital medical information such as your blood type, previous medical history or current medication.

All of this is unique to Dogtag and it can prove vital in an emergency.
Everything you need to know about Dogtag
Who and What is Dogtag?
DOGTAG® is a trading name of Travel Insurance Facilities Plc, which is authorised and regulated by the Financial Conduct Authority FRN 306537. tifgroup is trading name of Travel Insurance Facilities Plc registered in England No. 3220410. tifgroup; all rights reserved. Registered Office: 1 Tower View, Kings Hill, West Malling, ME19 4UY
What does 100% Proof Travel Insurance mean?
*100% Proof Travel Insurance refers to the functionality of the Dogtag, App- (and Tag-) based Proof and Medical Emergencies system and does not form part of your contract of insurance which is subject to the Policy Terms and Conditions as described in the Policy Details document.
So how does the 100% system work?
When you travel abroad, you may be in a country whose standards differ from those in the UK. Foreign clinics in other countries (even EU countries) want to know that they are going to get paid for treating you BEFORE they treat you. With Dogtag you can prove you're insured. You simply use the App on your phone to establish who you are and that you're insured or wear one of the optional Dogtag's (Classic Stainless Steel Dogtag, Helmet sticker etc); let's face it, you won't be doing sport with your insurance documents tucked into your underwear, and the web-based verification system quickly proves to a foreign medic that you are insured - the App even works when you've got no phone signal!
If your medic's still not convinced then our contact details are on the App or your Dogtag and your own Emergency web page. Time is crucial, and take it from us, foreign clinics WILL want to know you are covered before they start any treatment: it happened to us, it's why we invented DOGTAG.
Your DOGTAG Emergency Identity System offers a medic or other privileged person can view a read-only page with details about the currency of your insurance cover and any relevant medical information you choose to make available. See below for more information.
Medical Information Page
By using your membership log-in and password, you can access your Medical Information file and enter details that you think may be useful to a medic in the event of an emergency.
We sought the advice of the British Association of Paramedics in drawing up the table of information that medics would most likely want to see in the case of an emergency. When you log in, you get full read/write access to your file. A medic, using your Dogtag will be able to see a read-only version of the information you choose to display. This information might include such things as your blood type, any medication you're on or allergies. You can also display your next of kin. Of course, your DOGTAG Emergency Identity System is needed to access this information so it with you, either on your phone App or on the optional tag at all times when you're travelling.
Sports Cover
As sportsmen (skiers, divers, climbers) the founders of Dogtag were well aware that with ordinary travel insurance, it's just about impossible for you to find out what you're actually insured to do. It's all buried in the small print - if it's there at all. If you're an active, sports-oriented person it's more than likely you'll be going on holiday specifically to take part in your favourite sport or, if you're just putting your feet up, you'll be tempted by the chance to try something you've never tried before. In either case, you need to be able to check that you're insured to do it.
All you have to do is go on line and check your sport cover level (Sport, Sport+, Extreme or Extreme+) and check it against the Sports list to see if you're covered. If you're not covered for the sport you want to try don't worry, just get in touch and we can upgrade your cover.
Your Dogtag policy automatically covers you as standard for a huge list of sports. Check the Sports List, you'll see that the list is truly extensive. The standard Sport level of Dogtag covers a host of other sports as standard. Of course, some sports are riskier than others but we do still cover them - it's why we have higher levels of cover: Sport+, Extreme and Extreme+
And when you go for a quote, all you have to do is type in your sport and the system will automatically select the correct cover level for you.
So what do you get with Dogtag?
As you can see above you get Dogtag Medical Information system, you get proof of insurance, you get an emergency medical file. In fact, there's a long list of extras DOGTAG provide:
Virtual Dogtag App
Proof of Insurance
Emergency Information Page