Freeride or Freeskiing Travel Insurance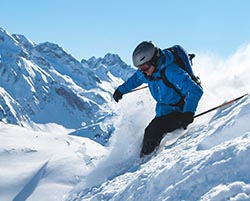 DOGTAG has been insuring off-piste skiers and snowboarders for well a over decade. In fact Dogtag was started by two extreme skiers (as it was known back then) who didn't think that the travel Insurance available at the time provided enough cover. After starting Dogtag with off-piste skiiers and snowboarders in mind, we thought that we might as well also insure many thousands of extreme and outdoor sports enthusiasts from bikers and climbers to divers and endurance athletes.
We get asked about freeride or free skiing travel insurance and off-piste travel insurance all the time so we produced this page and hope this guide will help you when you go into the mountains to live the dream.
Inverted Aerials
Now, we're aware that free skiing and free-ride have somehwt elastic definitions but we should be clear about one thing, we do not cover inverted aerials, not in the terrain park, not off pist or on pist, anywhere. The incidence of permanent maiming from spinal injuries is too high for underwriters to contemplate covering it.
To get a better idae of what types of skiing and snowboarding require which cover levels (Sport, Sport+, Extreme or Extreme+), check the Sports list.
Have fun, be safe and here are some definitions of how we view going off the beaten track:
Off-piste In the Resort:
If you chose our Winter Sports Cover (of the appropriate duration) with your Annual Multi Trip, Single Trip or Gap Year insurance, you'll automatically be covered for off piste skiing and snowboarding within the boundaries of the resort. In most European resorts, his provides a massive amount of scope to enjoy everything from finding your feet by simply venturing off the groomed runs to going off the beaten track to enjoy steeps and trees - provided you stay within the boundaries described by the resort map. So, if you simply want to ski or snowboard off piste but remain within the resort boundaries then all you'll need will be our Winter Sports upgrade, the default SPORT activity level will do.
Of course, you should never put yourself at risk by 'going under the wire' or skiing or snowboarding against resort recommendations. In some resorts, particularly in the USA, this is a felony and you can get arrested or lose your ticket.
Back Country Skiing
This is where we really do need to crisp up the definitions:
• Back Country with a guide
Venturing outwith the resort into areas that are unmanaged and unpatrolled, especially with regard to rescue services and avalanche control are plainly riskier than remaining within the resort. However, if you have a local qualified guide with you who knows the terrain and where all the bodies are buried, or likely to get buried, then we're happy with that so in acknowledgement of the increased risk over that of skiing within the resort boundaries we have rated Back Country with a Guide as SPORT+. And of course, you'll also need the Winter Sports cover upgrade.
It's worth mentioning again that in some North American states, your resort may be in a national park and going outside the resort without express permission can land you in hot water with the local sheriff or at the very least, lose your ticket.
• Back Country without a guide
Ok, we've established the increased risk of going outside the managed areas of the resort. Plainly, if you go out without a guide then the risks are greater and consequently Back Country without a Guide is rated EXTREME and you'll also need Winter Sports cover upgrade.
In case you're thinking that leveling this risk on back country skiing without a guide as a bit unfair, Extreme is how we rate Ski Mountaineering and we don't think the two are that much different when it comes to going out into the wilderness.
Finally, you must never ski off piste alone. Even in resort you can get into difficulty and if you're in a tree hole deep in the woods, nobody's gonna hear your plaintiff cries for help.
You can find some other useful information regarding sports that we cover in our Sports Information Library.
The DOGTAG Team
p.s. if you think this information was useful, why not recommend it to a friend using one of the links below.
---
---