Snowboarding Travel Insurance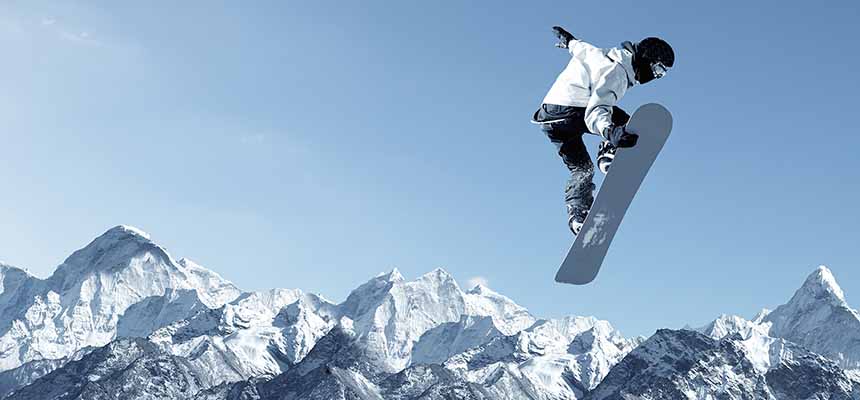 DOGTAG is well known for providing Snowboarding Travel Insurance; in fact the guys that launched Dogtag have spent their lives deeply involved with winter sports of all kinds. We were one of the first to recognise the importance of snowboarding travel insurance cover when other insurers were sneering at it , charging more than they would for skiing or even refusing to cover it at all.
In order to be covered for general in-resort snowboarding as long as you remember to select our Winter Sports cover upgrade you'll be covered for snowboarding. What do we mean by in-resort? Well we simply mean within the resort boundaries, a pretty massive area in most European resorts and as long as you obey the rules and advice of the resort authorities (lie don't 'under the wire' or disobey ad hic instruction) then you're covered with the winter sports upgrade. This gives you our default Sport level of cover.
If you're likely to be snowboarding from a helicopter or a cat then you'll need a higher level of cover,say Sport+ or Extreme as well as your winter sports upgrade but by and large, even for the Terrain Park, you'll be covered simply by selecting Winter Sports
What about Snowboarding Insurance for 'out of bounds' or 'Back Country'?
We rate these slightly differently because they involve going out into areas that are unpatrolled and may present a higher avalanche or other safety risk.. For more information visit our Off-Piste Skiing and Snowboarding page but the gist of it is that for off piste snowboarding within the resort all you'll need will be the Winter Sports upgrade but if you're going 'out of bounds' or 'back country', then you'll need to select a higher level.
Single Trip Snowboarding Travel Cover:
For Single Trip cover for a trip of up to 31 days, you can select to cover the whole period.
Longer trips:
If you're traveling for a longer period of several weeks or months and want to add winter sports cover, you can add winter sports cover to all or only part of the period for cover. Just select the overall dates of travel and then select the period within that when you'll need snowboarding cover.
Annual Multi-trip Snowboarding Insurance cover:
This is one of our best sellers for people who take two or more trips per year. An annual Multi- trip policy will cover you for unlimited trips of up to 31 days per trip (or 62 days if you upgrade) and you can add up to 17, 24 or 31 days of winter sports cover so you can take a skiing or snowboarding holiday as well as a summer holiday.
As well as the Winter Sports travel insurance upgrade, some of the above winter sports require an upgrade to a higher level of sport cover so make sure you check the Sports list to see which level you'll need (Sport, Sport+ or Extreme).
Other Sports that also require Winter Sports Travel Insurance:

• Cross Country Skiing
• Glacier Skiing or Glacier Walking
• Ice Climbing
• Kite Skiing/Snowboarding
• Langlauf
• Ski Randonee
• Snowblading
• Snowmobiling
• Snowshoeing
Does my Snowboarding Trravel Insurance require me to wear a helmet?
We know that some insurers make the wearing of a helmet mandatory in order to qualify for snowboarding cover. At Dogtag, we don't take this line. Statistics so far seem to indicate that most injuries are experienced in the lower limbs and torso and that head injuries are in a very small minority. We also think that our customers are mature enough and safety conscious enough to know when special equipment is necessary for their own safety - so we leave it up to you to decide if you need a helmet or not.
For what it's worth, our own personal experience is that a helmet is most useful when a) it's freezing cold - helmets are warmer; b) when you're snowboarding fast or steep and c) snowboarding in trees. Trees are hard, heads are not; trees win every time.
Click these links if you want more specific information about Off-piste skiing & boarding, Freeride or Helicopter skiing & boarding.
You can find some other useful information regarding sports that we cover in our Sports Information Library.
The DOGTAG Team
p.s. if you think this information was useful, why not recommend it to a friend using one of the links below.
---
---