Mountaineering Travel Insurance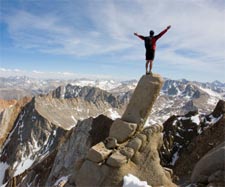 When it comes to providing travel insurance cover for mountaineering, although we know that risk is associated with elements such as the grade of climb, equipment and conditions, since there is no way specifically to guage these from an underwriting perspective, underwriters have to make some kind of judgement as to how to underwrite the risk. So underwriters take the simplistic view that risk is generally associated with altituded.
So you'll see from the Sports List that with the standard Dogtag program we cover climbing and mountaineering according to three altitude bands: up to 2,000 meters; up to 3,000 meters and up to 4,000 meters. A maximum altitude of 4,000 meters with our standard Dogtag program (the site you're on right now) will cover every Alpine peak with the possible exception of Mont Blanc.
High-altitude Mountaineering
If you want to climb higher than 4,000 meters we have a separate specialist mountaineering program called Dogtag Summit which will cover, as standard, mountaineering up to 7,5000 meters which will encompass many Himalayan peaks. Most people traveling to the Himalaya or the Andes will be doing so under the auspices of a mountaineering tour guide so in order to buy on line all you have to do is nominate your mountain and nominate your tour guiding organisation.
At all events, one safety stipulation is the use of correct equipment such as ropes and belays; climbing without the use of such safety equipment (Free climbing or Free mountaineering) is an Excluded activity and we do not cover it. Likewise, Solo mountaineering, in other words, climbing on your own is excluded.
You should also be aware that in all circumstances, you are in charge of your own safety and our Policy Details document stipulates that you should take reasonable care. With any insurance, the policyholder should always act as though he has no insurance at all and take all measures to protect their property and themselves. You should not knowingly put yourself in harms way and you should be aware that under the terms of cover, needless self-exposure to peril except in an endeavor to save human life may invalidate your cover.
Search and Rescue
First of all, we often get asked whether search and recue is covered. As with any travel insurance, search and rescue is provided for but only provided in the event of a medical emergency.
If you need cover for S&R in other circumstances (say, equipment failure or, well, simply getting lost) then we suggest you look at the likes of GEOS Alliance or Global Rescue who charge very little for membership. They also have a medivac service which will lift you to a hospital where we can take over.
Will I get rescued by Helicopter?
We often get asked if clients can expect to be rescued by helicopter. Plainly, we don't have helicopters standing by in every corner of the globe. Whether you are in Cairngorm, the Alps or in the Himalaya, the rescue system used is the choice of rescue organisation dealing with your case.
Mountain Rescue teams are generally very well trained and experienced at assessing injuries and managing the evacuation of the injured person off the mountain and to hospital in the manner most appropriate to the injured person's condition. It is they who will decide what is appropriate for the circumstances regardless of who insures you. Serious cases often involve helicopters but, more often, a combination of sled, ski lift and ambulance is more immediate and appropriate.
Other factors such as weather, remoteness and the local availability of rescue systems are also taken into account. Again, it is not uncommon to be asked for proof of insurance whilst on the mountain so have your Dogtag on you at all times.
However we regularly get asked if a tour giude can call in ahelicopter without contacting us first. Here's our position on helicopter rescue:
With DOGTAG, Search and Rescue is covered as part of the emergency medical section of cover. Where it is possible, you or your representative must contact us prior to calling in 3rd-party evacuation services. Where it is impossible to contact us prior to calling in 3rd-party evacuation services then as long as the evacuation is for emergency medical purposes only cover would be provided.
A Final Word On Altitude
In recent years it's become common for people to undertake what you might call 'tourism mountaineering'. Now, we know that most people who pay good money to tackle well-known Himalayan or Andean peaks are well aware of altitude and its effects. However, we'll take this opportunity to point out that altitude in itself can be a killer, let alone the risks associated with mountaineering.
If you have a personal or family history of heart or coronary disease then you must take precautionary advice. It is not enough simply to declare your pre-existing condition during that insurance application process. Medical screening personal do not commonly ask what you are going to do on your travels. If you knowingly deceive or withhold information from medical screening with regard to your intentions then this could compromise your insurance cover in the event of an altitude-relate medical incident.
You can find some other useful information regarding sports that we cover in our Sports Information Library.
The DOGTAG Team
p.s. if you think this information was useful, why not recommend it to a friend using one of the links below.
---
---