Megavalanche Insurance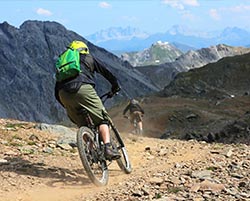 Megavalanche is one of the most testing enduro-type mountain biking events around. It might be one of the craziest bike races in the world , if not the craziest – yet we can insure you for it.
What's the sketch with Megavalanche insurance?
At Dogtag, we like mountain bikers: you're one of our biggest groups of customers and every year we insure a huge number to compete in Megavalanche and similar events even though the stakes and the risks are high.
Do I Need Megavalanche Insurance?
Because of its competitive nature, the intensity of the event and the possibility of injury in a froeign country where your (GHIC* cover only goes so far), it's best to have your own travel insurance. Our underwriters classify Megavalanche and similar events as among the most extreme sporting events out there. Sport risk ratings vary from time to time (at least as far as underwriters are concerned) so always check our SPORTS list to make sure that you are choosing the correct level of cover for your particular sport. At the time of going to press, Competitive Downhill Mountain Biking insurance, which is how we rate Megavalanche, is rated Extreme+ so be sure to select that when you go for a quote. At the quote stage we have a sport selector so if you type in "Mega…", it'll come up with the correct options. Remember, it's your responsibility to choose the correct level of cover.
Generally, ordinary up/down mountain biking doesn't need the same high levels of cover as downhill mountain biking but if you're buying an Annual Multi-trip, it might be best to have a think about whether you'll enter a downhill mountain biking event, or even choose to run one of the many downhill courses just for fun. Once again, check your sport level to see which cover you'll need.
Megavalanche Insurance: What am I covered for?
All travel insurance will cover you to one degree or another for some common features. These will be the likes of Medical Emergency treatment, Cancellation, Personal Belongings and so on. The main thing to look for is whether there are any exclusions with regard to what you can and can't do while traveling. The trick is to make sure, by checking the cover summary HERE or by reading the policy documentation which you can access HERE, that you get the correct mix of cover for your travel needs.
Will the Personal Belongings section provide cover for my bike?
The Personal belongings section of cover is really designed to cover the ordinary things that people travel with: your luggage, your money and some small personal possessions but it isn't designed to stretch to the likes of an expensive mountain bike, which most people will lay out at least a couple of grand for. We usually advise people to take out separate bike cover with one of the specialist cycle insurers like Cycleguard.
Does Dogtag provide Megavalanche Cover for Professional competitors?
The short answer to that is a firm No but let's look at the difference between amateur and professional. If you've checked our Policy Details, you'll already have spotted that we don't cover professional sport so if you're tackling Megavalanche as one of the events in your calander as a professional mountain biker then I'm afraid we can't cover you.
What makes you a professional?
We class a professional as somebody whose main day-to-day occupation is partaking in a particular sport. It doesn't matter to us whether you're getting paid vast sums of money by the likes of sports equipment sponsors or haven't yet made it to that level and mainly ride for no wages, if your doing your sport full time, you're professional. If you're serious but definitely part time (you have a proper job the rest of the time) then accepting the odd few bucks as prize money doesn't count as being professional.
Finally: Does Dogtag sell Insurance for Megavalanche?
The short answer to all of the above is, yes, we do provide insurance for Megavalanche Alpe d'Huez but you do need to make sure that you select the correct level of sport cover and satisfy yourself that the other cover features match your needs.
You can find some other useful information regarding sports that we cover in our Sports Information Library.
*Global Health Insurance Card
The DOGTAG Team
p.s. if you think this information was useful, why not recommend it to a friend using one of the links below.
---
---