Kilimanjaro Travel Insurance - Some Advice
We want you to have a happy and healthy adventure on Kilimanjaro but we think it's worth mentioning that although Kilimanjaro isn't a very steep or technical ascent, the summit rises to an almost Himalayan height, higher by quite a bit than Everest Base Camp.
High altitudes can be dangerous, especially to the unfit, inexperienced or ill-informed. We even know a couple of very fit olympic athletes who got into bother with altitude on Kilimanjaro. So we've pulled together some information here which should help you in planning your adventure.
First of all, if you've booked a trip to Tanzania with the intention of trekking up Kilimanjaro with a known tour operator and will be accompanied by a guide, then make a point of ensuring that your guide will be fully qualified, be experienced in administering to anybody suffering from altitude illness and that they will carry both drugs and resuscitation devices.
Get Educated
You're probably going to spend a lot of money on your trip so it's worth protecting your investment. So why not read up
Princeton University has produced some very useful reading matter on altitude illness and you can access that HERE.
Everest Base Camp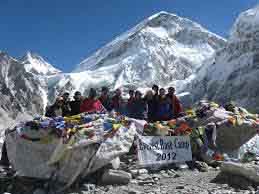 16,900ft; Summit 29,029ft
If you want to go beyond reading matter and take some action in preparation for your trip then why not contact The Altitude Centre.
NOTE
Finally, we have had a couple of cases where people have gone on to our medical screening help line and declared a cardiovascular condition, then gone on to a trip at high altitude and suffered very badly, and in one case with terminal results. When we medically screen somebody and agree to insure you, we do not routinely ask what you intend to do on your trip. It's up to you, if you know you have say, a heart condition, to use your common sense when it comes to exertion. High altitude climbing or trekking requires very high levels of exertion and can cause illness which will further endanger an already poorly performing cardiovascular system. Knowingly exposing yourself to dangers which might exacerbate your condition may compromise your cover.
You can find some other useful information regarding sports that we cover in our Sports Information Library.
The DOGTAG Team
p.s. if you think this information was useful, why not recommend it to a friend using one of the links below.
---
---