Roller Derby Travel Insurance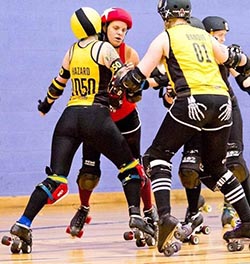 A year or two ago we were asked if we'd cover Roller Derby. Well, when we looked into it, we thought it was mental.
Nevertheless, we went to our underwriters. These are usually fat guys with big cigars and red braces but luckily, our underwriter is a female (and well'ard) and she gets it. So she said. "Yeh, ok. Rate it Sport+" Basically, that means it's crazy, but not totally crazy.
So now, if you need cover for Roller Derby just go for a Dogtag quote and be sure to select Sport+ when you go through the application process.
Got a whole team traveling together?
We can help.
We've now covered quite a few roller derby expeditions to foreign parts. The best thing to do is drop us a line at enquiries@dogtag.co.uk with some information on numbers and where and when you're going. We'll do our best to make it easy on you and we might even be able to give the team some discount.
Cover restriction
Not a big deal, but underwriters are crafty people and they've spotted that Roller Derby is a rough sport so the only other stipulation is that you wear protective gear: your helmet, knee pads etc - but that's probably a compulsory in the sport anyway.
You can find some other useful information regarding sports that we cover in our Sports Information Library.
The DOGTAG Team
p.s. if you think this information was useful, why not recommend it to a friend using one of the links below.
---
---