Arctic Expedition Insurance
Dogtag is well known for providing travel insurance for extreme sports and activities.
In fact, we've covered record breaking expeditions such as 'Jock Wishart's Row To the Pole' expedition, where a team rowed to the magnetic North Pole. As well as non-polar arctic expeditions for both scientific and simple adventure.
So, if you're planning an artic adventure, then why not protect your travels with us? You can find out more information below!
Search and Rescue
The main thing that concerns us is Search and Rescue. Let's take the example of Greenland. The Greenland Government may insist on a commitment to cover a minimum charge for search and rescue. Their minimum charge is extremely high, beyond the cost of most search and rescue operations and at all events, no insurance company will agree in advance to pay a minimum charge for a service should the need arise.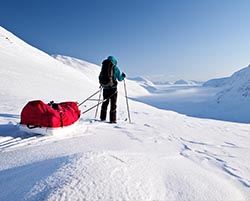 Dogtag is not a search and rescue company. We simply insure the risk of the trip and our medical rescue cover is not designed for the extreme conditions that travellers could face in some parts of the Arctic. No cover is provided by us for any additional costs incurred to find you if people don't know where you.
For this reason, depending on whereabouts you plan to travel, you may need to take out a separate search and rescue policy.
Some companies operating in the Antarctic continent and organise polar expeditions have their own search and rescue companies stationed there that they use. These companies can often be better equipped to deal with rescue emergencies, which is why we often recommend buying protection through them.
Antarctica
Over recent months we've been unable to accommodate travel to Antarctica unless the customer has 3rd-party evacuation cover in place. This is because the default evac. service in Antarctica is run by a private company who have a virtual stranglehold on the continent. There are 3rd party services which will attend S&R situations on the ice cap and we suggest you have a look around for one that offers a service that suits your needs.
Some of the cover available to you:
24/7 Emergency Medical Assistance
Up to £10 million medical expenses including bringing you home if it is medically necessary or essential
Automatic policy extension if you can't travel home as planned
Cover for lost or stolen baggage
Gadgets such as laptops and mobile phones covered as standard
Worldwide, European and UK cover, provided you do not travel against the FCDO* advice
Plus much more!
You can find some other useful information regarding sports that we cover in our Sports Information Library.
Why Do I Need Travel Insurance If It Doesn't Include Search & Rescue Cover?
While we are unable to offer search and rescue cover we will cover you for medical rescue, it is important to have protection against other mishaps that can happen during a trip. For example, travel insurance cover can provide cover against trip cancellation as well as medical emergency cover should you fall ill or become injured during your trip.
Please contact us at enquiries@dogtag.co.uk to discuss.
*Foreign, Commonwealth and Development Office
---
---