Arctic Expedition Insurance
Dogtag is well known for providing insurance for extreme sports and activities and we do have a record for insuring arctic expeditions. In fact we've covered record breaking expeditions to the South Pole and Jock Wishart's Row To the Pole expedition where a team rowed to the magnetic North Pole. We've also covered non-polar arctic expeditions both scientific and simple adventure.
However, because these expeditions take place in the most extreme and remote areas of the globe we do have some conditions.
Search and Rescue
The main thing that concerns us is Search and Rescue. Let's take the example of Greenland. The Greenland Government may insist on a commitment to cover a minimum charge for search and rescue. Their minimum charge is extremely high, beyond the cost of most search and rescue operations and at all events, no insurance company will agree in advance to pay a minimum charge for a service should the need arise.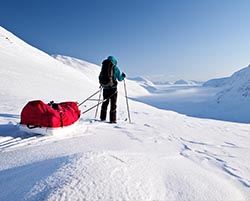 Similarly, some companies operating in the Antarctic continent and organising polar expeditions there have contracted the services of search and rescue companies stationed there and who also have a tariff with minimum charges.
Dogtag is not a search and rescue company, we simply insure the risk and our search and rescue cover (which would normally extend to S&R cover for less remote areas) is not designed for the stratospheric and sometimes enthusiastically levied cost of S&R from remote areas like the South Pole or the Greenland Icecap. This is why we may insist that you have separate S&R cover.
Antarctica
Over recent months we've been unable to accommodate travel to Antarctica unless the customer has 3rd-party evacuation cover in place. This is because the default evac. service in Antarctica is run by a private company who have a virtual stranglehold on the continent. There are 3rd party services which will attend S&R situations on the ice cap and we suggest you have a look around for one that offers a service that suits your needs.
3rd Party Evacuation services
We often refer people to a companies such as Global Rescue who can provide short-term or annual plans for search and rescue worldwide (except the Antarctic) for a relatively small sum compared to the whole cost of an expedition. They also have Medical Evacuation cover as well. The acquisition of a GPS device such as a SPOT or Irridium device so that you can be located might be an obvious help for search and rescue.
Companies like Global Rescue or GEOS do have limitations and exclusions to the cover that they offer and you should look around for a company that satisfies your needs.
We'll be happy to work with you, but we will probably ask for confirmation that you have acquired 3rd party S&R cover before we will provide the other travel insurance elements such as cancellation and medical emergency cover.
If you want to discuss an arctic expedition of any kind, just call us on 0800 0 364 824 or drop us an email with some information and we'll do our best to help.
You can find some other useful information regarding sports that we cover in our Sports Information Library.
The DOGTAG Team
p.s. if you think this information was useful, why not recommend it to a friend using one of the links below.
---
---