Adventure Racing Insurance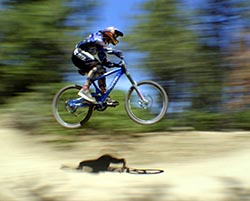 Adventure racing is defined as a combination of two or more disciplines, including orienteering & navigation, cross-country running, mountain biking, paddling and climbing and related rope skills. An expedition event can span ten days or more while sprints can be completed in a matter of hours.
Adventure racing historically required teams to be of a specified size and to include both men and women, but many races no longer restrict team size and include single-sex divisions. Some also include age-based categories.
CHOICE OF POLICY
You'll need to make sure you have the right level of adventure racing travel insurance. If you're planning to attend a single event abroad then DOGTAG Single Trip travel insurance might suffice but if you're attending multiple events abroad or, indeed, might just take a more leisurely holiday in the sun then our Annual Multi-Trip travel insurance usually represents better value.
DOGTAG's underwriters define Adventure Racing as having a relatively high risk of injury (because of the higher risks involved in some of the sports often included in an 'adventure race) so we provide Adventure Racing travel insurance under our EXTREME cover level. DOGTAG Extreme cover will also cover you for a whole range of 'extreme' sports as well as those covered under our SPORT and SPORT+ cover levels.
Because an adventure race can consist of two or more disciplines, you should take care to ensure that none of the proposed sport elements fall within the category of sports. To check whether this is the case click here Sports List to view the list of excluded sports.
We can sometimes cover certain excluded sports and activities or unlisted sports if we have more information about the exact nature of your trip. For a bespoke quote please email us at enquiries@dogtag.com or call us on 08000 364824 with full details.
TYPICAL ADVENTURE RACE FEATURES
Lengths
Sprint: typically a two to six hour race, featuring minimal navigation and occasionally involving games or special tests of agility or cunning.
12-Hour: a six- to twelve-hour race, featuring limited navigation and orienteering.
24-Hour: a race lasting between 18-30+ hours, typically involving UTM-based (Universal Transverse Mercator) navigation. Often basic rope work is involved (e.g., traverses or rappels). 24-hour and longer races often require that competitors employ a support crew to transport gear from place to place. Other races, including the five to ten day Primal Quest, do not permit support crews, with race organizers transporting gear bins to designated checkpoints for racers.
Multi-day: a 36-48+ hour race, involving advanced navigation and route choice; sleep deprivation becomes a significant factor.
Expedition: Three to 11 day race (or longer), involving all the challenges of a multi-day race, but often with additional disciplines (e.g., horse-back riding, unusual paddling events, extensive mountaineering and rope work).
Disciplines
The vast majority of adventure races include trail running, mountain biking and (ideally) a paddling event. Navigation and rope work are also featured in all but the shortest races, but this is only the beginning. Part of the appeal of adventure racing is expecting the unexpected. Race directors pride themselves on challenging racers with unexpected or unusual tasks. Races often feature:
Paddling: kayaks; canoes; out-riggers; rafts and tubing.
Traveling on wheels: Mountain Bikes; kick-scooters; in-line skates; roller skates.
Beasts of Burden: Horses and camels;
Catching Air: Paragliding; hang-gliding.
Covering Terrain: Orienteering; mountaineering; coasteering; swimming; canyoneering.
Learning the Ropes: Ascending; rappelling; traversing (including via zip-line).
Some of the above text describing Adventure Racing has been cribbed from Wikipedia the free encyclopedia. You can view the full article at http://en.wikipedia.org/wiki/Adventure_racing.
You can find some other useful information regarding sports that we cover in our Sports Information Library.
The DOGTAG Team
p.s. if you think this information was useful, why not recommend it to a friend using one of the links below.
---
---